«171-th Chernigov Repair Factory»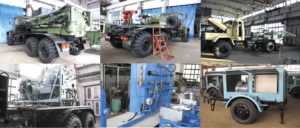 The company was created based on the production of the State Enterprise Ministry of Defense "171 military factory", with extensive experience in manufacturing and overhaul automotive vehicles for ground support of flights and special machines neededto content airfields in operational readiness.
We are ready to supply you with custom aviation ground equipment, which is used as the military airfields and civil airports, to overhaul chassis, engines and aggregates various cars and tractors.
The technical condition of equipment is supplied, new, renovated, with storage (category 1, no industrial developments) and operational (category 2) with presales.
The company also performs overhaul of engines KAMAZ-740, YMZ-236, YMZ-238 YMZ-240, SMD 60 SMD-62 and others.
We carry out refurbishment cars under the Volvo family YaMZ-238, T-150 tractors and their modifications under YaMZ-236, YMZ-238, produced no standardized equipment, metal structures, install special equipment on the chassis of various modifications.
We armed with advanced equipment and production technology, experienced team of professionals.