«Plant «Kuznya on Rybalsky» PJSC
PROJECT 58150
RIVER ARMORED ARTILLERY BOAT «GYURZA»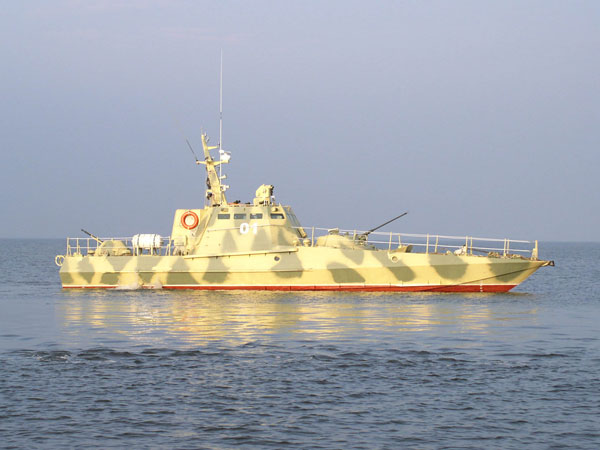 PJSC «Plant «Kuznya on Rybalsky» is a shipbuilder of river armored artillery boat "GYURZA" meant for patrol and protection of borders and river basins.
1. Type and purpose
Type:
River armored artillery boat (RAAB)
Purpose:
Patrol service of border river, lakes and maritime littoral zones
Fight with small size boats of smugglers and trespassers
Fight with small size protected coastal targets (ATV, bunker shelters)
Protection of vital stationary and floating hydroengineering constructions
Securing of operations of intelligence and diversionary groups
Navigational escort of detached vessels on internal waterways
Protection of seafaring safety on international and internal waterways
2. Main technical dimensions and characteristics
Length
Length overall
Width   overall
Side height by middle
Draft by full displacement
Displacement, t
Standard
Nominal
Full
Speed on deep and quiet water at 15ºC
Full ahead
Economic
Cruising range
At economic speed
Boat endurance with foodstuffs
20,70 m
18,00 m
3,90 m
2,25 m
0,70 m

34,41 t
38,38 t
39,91 t

27,80 knots
11,00 knots

450 miles
5 days
3. Tank capacity
Fuel oil
Fresh water
3,0 t
0,15 t
4. Crewmembers
Officer (midshipman)
Sergeant and sailors
Total
1 person
4 persons
5 persons
5. Habitability
Boat crew accommodates in double-birth cabin (for officer + reserve) and cabin for 4 persons. Boat equipped with galley and foodstuffs storeroom with 1 refrigerator for food preparing. Also boat equipped with shower room, toilet and awning equipment
6. Landing capacity
RAAB meant for accommodation of intelligence and landing group (6-8 persons) with light caliber gun.
7. Operation standards
RAAB "Gyurza" complies with following standards:
International convention of human protection SOLAS-74 with Protocol 1978 and amendments 1981, 1988, 1995, 1996.
International convention of marine pollution prevention MARPOL- 73/ 78
Other international, national and regional rules according to demands of Buyer.
8. Armaments
Boat armaments consist of two modified conning towers БМП-2 and БTР-70
9. Navigational equipment
RAAB equipped with navigation radar M- 1933 CNT bk2 FURUNO for above-water targets detection and for navigational tasks solution,
Echo sounder and magnetic compass Mini-C for navigation provided.
GPS j NAV –500 satellite receiver-indicator of location coordinates to be installed additionally.
10. Communication devices
RAAB "Gyurza" equipped with following communication devices for communication with bases, ships, civil vessels and land forces:
SW transceiver Harris RF-5800H-MP 005 (60 W)
SW transceiver Barrett-950 (35 W)
VHF transceiver Motorola GP- 360 (25 W)
VHF transceiver Motorola P- 173 M  (for land forces connection)
TL antenna systems
11. Watch facility
RAAB equipped with "COBA" retrieval system with stabilized vision for search, identification of  coastal above-water targets in daytime and nighttime and for transmitting of target search data to armaments installed in conning towers.
For all-round searching with closed armored porthole covers provided tank searching devices TNP-B
12. Protection
RAAB structurally is the boat with citadel armored protection scheme covered the wheelhouse, engine room, artillery section, tower barbettes meant for protection of bullets with caliber 5,56 (SS-109 patron – NATO standard) and bullets caliber 7,62 mm of 1943.
13. Propulsion system
Main engines
Main propulsion system consists of 2 diesel engines with reverse transmission reducers 650 kW with rotation speed 2300 r/h
Shaft lines and engines
RAAB equipped with 2 shaft lines. Each of them consists of propeller shaft, main bearings, stern tube arrangement and two bronze 3-blade FPP propellers. To avoid any possible damages of propellers in shallow waters they installed in special hull tunnels above BL
14. Power plant
RAAB equipped with one diesel-generator , 220 V, 50 Hz and 2 DC generators 10kW, 27 V hanged on main engines. Boat equipped with one 4kW static transformer for 27V DC consumption. For DC network service in harbor and emergency situation (also for diesel-generator start), RAAB equipped with battery consisted of 4 accumulators.
15. Lightings, alarm and signal lights
RAAB equipped with main (internal and external) lightings 220V, autonomic source emergency lighting from, signal lights, one signal projector МСНП-125M and one search projector with remote control.
16. Inventory equipment and SPT
Boat equipped with inventory munition, spare parts, tools and devices. Part of inventory munition and tools are onboard of boat and part stores ashore.